Mediterranean diet and meat, an ancient bond
People thinking that the Mediterranean diet is almost exclusively vegetable, with little meat and animal products, will have to change the idea. Indeed, meat is very present, linked to the Mediterranean diet by an ancient bond.
The stuffed hen, beef meatloaf, rolls, and cutlets of chicken, veal or pork, are just some of the typical dishes based on meat of the Mediterranean diet, not to mention the long list of PDO and PGI cured meats, which boast millennial traditions.
Meat is the main ingredient of delicious second courses of the Mediterranean tradition, and an element of sauces such as pasta seasoning, lasagne or fillings: a meat sauce is prepared, composed of minced meat and raw or cooked ham, or bacon cubes with celery, chopped onions and carrots, flavoured with wine and spices, depending on the recipe, to fill aubergines, artichokes, arancini, and timbales.
Anyone who thinks that the #MediterraneanDiet is almost exclusively vegetable, with little presence of #meat and #AnimalProducts, will have to think again. Indeed, it is united by an ancient bond.
Click To Tweet
Meat has always been a symbol of wealth, welfare, and the defeat of malnutrition. Therefore, it was put on the table as a sign of celebration, almost as a rite to avoid food shortages and starvation fears rooted in the population since ancient times.
With the economic boom, meat consumption increases significantly, accompanying the development and strengthening of the middle class: the well-being and longevity of Italians grow, which have been able to best express their genetic potential, raising even more in height, thanks to animal proteins with high biological value and the improvement of their diet.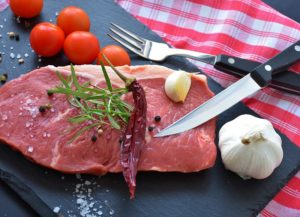 Going even further back in time, we discover that we always have been eating meat since prehistoric times, when we were hunters' peoples, and thanks to the meat, we have evolved and become what we are today. It has been recently discovered that in meat, there is nicotinamide, the vitamin of intelligence, which has played a crucial role in the evolutionary process of humans, allowing a larger brain and more excellent cognitive abilities.
Its presence in our diet and culture has continued over time, becoming a noble food of Mediterraneanity: eating it is also joy and conviviality because it can bring people together around the table, while on the contrary the rejection of meat, in addition to the religious and punishment meaning, expresses the rejection of society.
The Mediterranean diet, whose tenth anniversary was celebrated in recent days as a UNESCO intangible heritage of humanity, is the only one today universally recognized as capable of preventing chronic diseases is the only one today universally recognized as being able to prevent chronic, metabolic, and cancer diseases, such as diabetes, obesity, cardiovascular diseases, and Alzheimer's. And it also extends life: thanks to the Mediterranean diet, Italians are among the longest-lived and healthiest in the world, with Sardinia among the blue areas of the planet, with the highest concentration of centenarians.
The #MediterraneanDiet is the only one today universally recognized as being able to prevent chronic, metabolic, and #cancer #diseases.
Click To Tweet
Sardinian porcetto, sausages, hams, bacon, cheeses, wine, and oil: these are the Mediterranean delicacies that cannot be missing on Sardinians' tables. Not to mention our grandparents' particular habits, such as that of flavouring pasta and beans with pork rind, because eating meat was and always represents still today for them something reassuring.
Cattle have always accompanied humans, providing meat and milk, but everything the family needed, such as agricultural traction in the fields and energy needs, while killing the pork guaranteed meat all year round. The popular tradition then turned towards the production of cured meats: the technique of processing and preserving beef and pork, salting and drying them, has very ancient roots and concerns precisely the Mediterranean area, with representations of the first salami and sausages even in Egyptian tombs.
In short, our ancestors have so much to teach us, and knowing the ancient link between meat and the Mediterranean diet can help to understand that today's dilemma about its consumption has no reason to exist.
Knowing the ancient link between #meat and #MediterraneanDiet can help us understand that today's #dilemma on its consumption has no reason to exist.
Click To Tweet