Fake meat? "This is not a steak"
With the slogan "Ceci n'est pas un steak" European organisations representing meat supply chains are opposed to the proposal to use definitions that recall meat in overprocessed plant-based products.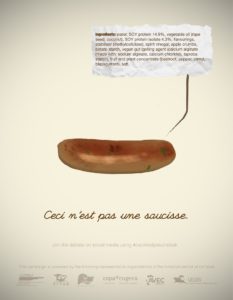 Take for example the sausage: insicia, as called by the Latins, crossing of insicium, insicia, "minced meat", with salsicius, "salty". The coexistence of the two ingredients salt and meat is evident in its name. The first one, incomparable in the preservation of food, so valuable in the past centuries that it was used as a currency, a bargaining chip. The second one, the noble food par excellence. Today when you say sausage you know what you're talking about, what you're going to put on your plate. Same thing for burgers, which despite having less history it declares itself for what it is: minced meat. And other examples could be made, all containing meat as the main ingredient.
But now for everyone, there is less certainty, and the risk of confusion increases. It happens when we talk about vegan sausage, vegan burgers, "vegetable" meat, and so on. Contradictions in terms that, however, have appeal to the marketing, that effortlessly recalls meat by evoking flavours, aromas, and nutrients that do not belong to plant preparations, which at most can attempt an imitation, never entirely successful.
Not to mention the nutrient inputs, very different despite the effort to put together proteins, vitamins, minerals, and much more. A set of ultra-processed raw materials in an attempt to look at what they are not. A little more imagination in finding a name for these products would not hurt, without borrowing definitions that recall meat. A name that should also be unpleasant to people who have banned animal products from their tables.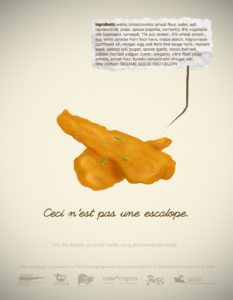 The European Parliament, on the other hand, is once again supporting the designations of plant-based products evoking meat. MEP Eric Andrieu would like to entrust the European Commission with the task of setting boundaries on the use of definitions of plant-based products. By proposing that names such as steak or burgers can be freely used, as according to the french MEP those names cannot be reserved only for meat. Then no naming constraint for products such as soy or corn steak, vegetable sausages, or vegan burgers. The only condition is claiming the absence of meat. That sounds in these cases as a plus, rather than a limitation.
A position that can be nutritionally criticized and fearsome for the possible economic and social consequences. There is the risk of confusing the consumers, directing their choices, and conditioning their purchases. Plus the risk that millennial stories like that of sausage are going to be lost. Farmers and the whole meat world want to avoid this risk. And here comes the campaign "Ceci n'est pas un steak", a slogan that could be translated to "this is not a steak", launched by a group of European organizations representing the livestock world. These include Copa-Cogeca (representing European farmers), CLITRAVI (representing European sausage producers), EFFAB (animal breeding and reproduction), AVEC (European poultry farmers), IBC (fresh and processed meats), and UECBV (European animal and meat traders).
Through this initiative, the president of the beef group in Copa-Cogeca, Jean-Pierre Fleury said that it is not intended to oppose the development of new food, but only to respect the work of millions of European farmers. "I'm not afraid," Fleury said, "to say that this is an obvious case of cultural hijacking. It promotes the idea – he continued – that the replacement of one product with another has no impact on the nutritional intake."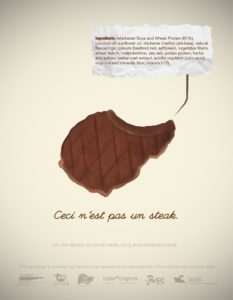 The manifesto of the information campaign launched by European organisations reminds that farmers are engaged in the production of plant and animal proteins and they do not intend to stand in opposition to nutritional choices that exclude meat. But they ask loudly that the paradox of promoting vegan products by referring to meat is resolved. If a product has the market preferences and meets consumer expectations it does not need to present itself as a trivial imitation. And everyone knows that meat is at the centre of false information aimed at blaming its consumption. It is clear that behind all this can be a skillful lobbying work, motivated by strong interests in the field.
The European Parliament's decision, which is called to vote on Eric Andrieu's proposal, is now expected. In view of that moment, initiatives under the french slogan "ceci n'est pas un steak" will be multiplied with the aim to raise public awareness of the importance of meat denominations. With the aim of calling meat what is meat, to avoid the risk of buying in the future a burger that is not really one. Just correctness. N'est ce pas?
Click once on the images below to open them and then again to enlarge them. You can then read the long list of ingredients that make up the hyper-processed products passed off for healthier and more sustainable than meats and cold cuts.